Refinishing Cabinets Raleigh NC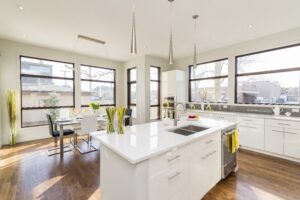 We do professional Cabinet Refinishing Raleigh NC. We can give you a FREE quote for a great way to liven up your living space and increase the value of your home. Save money instead of replacing your cabinets with one phone call to us! We use the best quality materials and tools to do the job right the first time. We can finish your cabinets in a variety of colors and gloss types. We use multiple coats so that your cabinets will be resistant to chips and scratches. We can even do glass panel doors and give your kitchen or bathroom a brand new look. We do top notch work at very reasonable prices and pass the savings on to you! Give us a call today for a FREE QUOTE or fill out the contact form to the right of this page! We look forward to doing business with you! You'll be surprised at the sheer difference that kitchen cabinet refinishing and bathroom cabinet refinishing services can do for you.
Refinishing Kitchen Cabinets Raleigh NC
We are the top professional when it comes to refinishing kitchen cabinets Raleigh NC. We will refinish your cabinets and give them a new look that will make you proud to have guest over in your kitchen. This will bring new life into your home and increase your resale value! This allows you to use your old kitchen cabinets and give them a fresh new look. We can refinish your bathroom cabinets in multiple colors and many gloss patterns. We use top quality products and make sure that your kitchen is left cleaner that when we came! This ensures that this is hassle free and debris free so that you leave the headache to us! What's great is that you get a great looking kitchen at the end of the day with having your old cabinets ripped out and your countertops destroyed in the process! [link id=10]Specialized Refinishing[/link] is the best company for all of your refinishing needs in the Raleigh NC area.
Kitchen Cabinet Refinishing Services
Raleigh kitchen cabinet refinishing, resurfacing, staining, and painting is another of our services that we offer. It can greatly change the appearance of your kitchen all together, and you don't even need to replace your existing cabinets! Cabinet refinishing comes in at a true fraction of the cost of replacement, and can be done in mere days compared to weeks for total replacement! Unless your cabinets are falling apart, you really need to look into Raleigh NC cabinet refinishing services.
Learn more about our Raleigh Triangle Kitchen and Bath refinishing services. Feel free to [link id=1802]contact us[/link] with any questions you may have!
Kitchen Cabinet Repainting, Refinishing Experts in Raleigh
Many homeowners love the idea of painting their kitchen cabinets for a completely refreshing look without spending much. But even though cabinet repainting seems like the easiest home improvement project ever, we've seen the unforgivable mistakes that sometimes make kitchen cabinets look worse than they did. So to avoid wasting paint and spoiling your wonderful cabinets when repainting, here's what you need to watch out for. Refinishing kitchen cabinets is the way to go if you want a new look, and the pros here at [link id=10]Specialized Refinishing[/link] are here to do just that!
Failing to clean the surface
The new coat of paint will never stick if you don't start by cleaning the surface. Use a grease remover to remove oil especially on the door. You can also visit your local store and get a paint prep degreaser which is perfect for cleaning the surface and making it ready for a fresh coat of water-based paint. Remove all the dust on the surface as well before painting.
Resurface Kitchen Cabinets Raleigh NC

Are you in need of Resurfaced Kitchen Cabinets Raleigh NC? We have you covered! We can resurface your kitchen cabinets to make them appear like new! This is a great way to not have the costly remodel of your entire kitchen and will greatly reduce the down time of your kitchen! Give your kitchen new life and increase the resell value of your home! Bring your kitchen up to modern standards with a simple kitchen cabinet resurface! We have many colors and textures to choose from! Call us today for a FREE QUOTE or complete the form on the right of this website. It's that simple! One call and new looking kitchen, leave the trouble to us and not have costly mistakes! You may think that your only option is to turn to total replacement of your kitchen cabinets, but luckily refinishing is here to help! Cabinet refinishing is a very handy service
Rushing into the process
Repainting your kitchen cabinets is a project that you need to give it time. Give it 3 to 4 days so that you can be meticulous throughout. You'll need to remove the hardware knob, drawers and hinges before you start painting. Some people will paint with all the hardware on but this is often not recommended. The first coat of paint may never be enough to give it a smooth looking appearance so you'll need to let it settle in before applying the second coat.

Lack of proper sanding of the surface
It doesn't matter how smooth you think the surface of the cabinets is, sanding is important because it helps to ensure that the paint sticks on the surface. When you are sanding, remember that the idea is to remove the gloss on the surface that may make paint hard to stick. For professional refinishing services in Raleigh, get in touch with [link id=10]Specialized Refinishing[/link].
Failing to use a suitable primer
Primers are applied to surfaces before painting for several reasons. The most important is to prevent blotching a few months later when the paint begins to cure. So many stores in Raleigh sell high-quality primers which can be applied on the cabinet surface before painting.
Using low-quality paint
The quality of paint you choose will greatly determine the result of the project. A good quality paint provides a smoother finish, lasts longer and will be required less in terms of volume. You'll also need to get the right painting equipment like a roller that smoothes out the surface to get rid of visible brush strokes. A spray gun can also be a great tool to use if that's the look you want.
For cabinet refinishing experts in Raleigh, contact us today! We repair, restore, refinish, resurface, reglaze, and recolor on site without removal and in just a few days!
Take a moment and enjoy a few more of our great home improvement articles below:
Garner Bathroom Refinishing
Cary Bathroom Refinishing
Refinishing Bathroom Countertops