Old, Stained Grout Can Look Terrible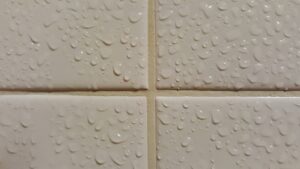 Nobody pays much attention to grout when it's doing a fantastic job of preventing the edges of a tile from chipping and cracking, bonding tiles together, keeping out water, and giving floors and walls a polished look until it becomes stained or starts coming apart altogether. Today's grouts are made using polymer additives, which ensure color quality and greater flexibility even come in handy for concealing irregularities in tiles as well as bridging the varying thicknesses of flooring in some patterned installations.
Despite their improved performance, grouts are porous and unfortunately hold onto dirt more than the rest of your floors. Plus not only are they susceptible to staining, they also peel or appear cloudy mainly when residual moisture pushes through the surface of the tile. There are many ways to give new life to your old grout while in extreme cases, the only remedy may be to re-grout or retile, but more often than not old grout can be renewed. Consider the following tips:
You can remove years of stains that have penetrated surfaces and restore tired-looking grout using a degreasing agent, a commercial steam cleaner to bring stains to the surface or a stiff-bristle nylon brush and a few hours of some good old elbow grease. The entire process is tedious and a little messy, but the results are worth all the effort, plus it's the most cost-effective way to freshen things up without the expense of re-grouting. If you don't have a steam cleaning machine, you can always rent one.
You can use epoxy grouts, and while they can yellow or fade on exterior applications, they are the most durable options for bathroom installations and kitchen back-splashes because they are resistant to staining, water damage, and will hold up against harsh cleaners. Note that while Epoxy grout is a tad expensive and more difficult to apply, however, it's durability makes it ideal for high-traffic area applications.
You could also use cement-based grouts preferably for installations with grout lines wider than 1/8th of an inch, like ceramic tile or glazed thin brick, since sand is literally added into the mix, it makes the filling resistant to cracking and shrinking. Note that sanded grout takes longer to set than epoxy making it ideal for using on handmade tiles.
Use a spray-on or applicator grout sealers to create an impenetrable barrier on top of the tile and grout. Penetrating sealers, in this case, are preferable because they still breathe even after soaking into tile and grout.
Something as simple as your tile and grout CAN make a massive difference in the overall appearance of your bathroom, way more than you may think. A nice bright white looks way different than a dull white, and the eye picks that up immediately. Regardless of your ultimate goal, we can help you revitalize or completely change your bathroom into what you really wish it could be. [link id=10]Specialized Refinishing[/link] is your source for all of your Tile Grouting needs.
Contact Us Today About Our Tile and Grout Restoration Services.
Call (919) 568-1176 or complete the contact form below for a FREE estimate!
[gravityform id="3″ title="false" description="false" ajax="true"]