Kitchen Countertop Ideas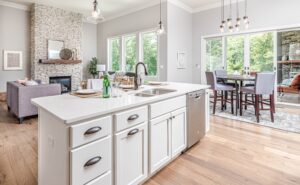 There are various kinds of kitchen countertop materials available in the marketplace these days. Some are of the DIY assortment while others require tools and particular ability to have installed. You can choose the most affordable kitchen countertop, which is plastic laminate such as the Formica (c) brand. This material is fairly simple to set up and comes in an extensive variety of colors, textures and designs is robust comparatively stain resistant. The downside is that it burns and it may be cut readily when preparing food.
Next is ceramic tile. The tile does not burn, scorch, or cut with average wear. There is a variety of colors, textures as well. And because it is a merchandise that is hand installed, you can get as elaborate or plain as you favor.
However, there is two issues with ceramic tile yet. First, since it is tile, there is also grout lines. The grout lines do yet even though the tile does not stain. What this means is that white items shows in case you have darker material and darker grout will show in the event you've got white or lighter tile. Grout care, although not hard should be a concern.
Another material for your countertop is granite. Its natural mixture of color can give your kitchen a tidy, upscale look. These substances come in many different colors too with the solid surface being accessible in solid and multi colors. Granite typically resembles a multi-colored aggregate with a strong tone that is glowing. The cons of choosing this material comes to cost. Both solid surface and granite kitchen countertops might be quite expensive. $100-150 dollars per running foot of countertop is the usual price range.
When selecting what suits you, know about the potential problems so you know what to expect and to ensure you'll be truly happy with your investment.
Contact Us About Our Countertop Refinishing Services Today!
Got an old kitchen countertop that needs some TLC? Let us do some magic work on your old kitchen countertops and even cabinets. We specialize in resurfacing, reglazing, recoloring and repairing almost all types of surfaces! [link id=1802]Contact us[/link] today and let us help you restore your old kitchen's beauty. If you don't want to go for full replacement, we offer some of the very best counter refinishing services around!
Call [phone] or complete the contact form below for a FREE estimate!
[gravityform id="3″ title="false" description="false" ajax="true"]